Agriculture in Zenica-Doboj Canton plays an important role and represents a significant potential for economic development, thanks to the favorable climate, water, and soil quality.
The total arable land in 2018 in Zenica-Doboj Canton covers 47,125 ha, which is 0.8 % more arable land compared to 2014 (46,741 ha).
The municipalities of Žepče, Doboj South, and Breza have high cultivation of arable land, while Olovo and Vareš have the lowest.
Overview of arable land according to the method of use by cities/municipalities of Zenica-Doboj Canton in 2018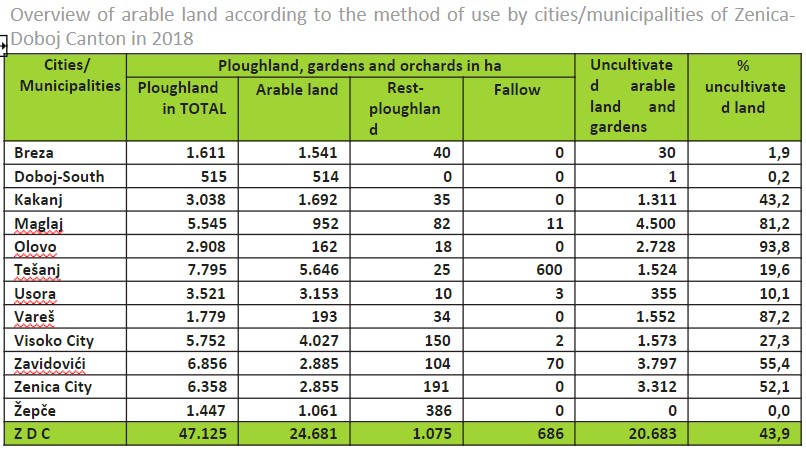 Existing natural conditions are significant prerequisites for organizing agricultural activities in various areas of primary agricultural products such as crop production (vegetable growing, fruit growing, fodder plant production), production of medicinal plants, beekeeping, animal husbandry.
The number of registered agricultural holdings (crafts) in Zenica-Doboj Canton is constantly increasing, so in 2019 their number was 7.3 times higher than in 2014.

Also, in the period 2014-2019, the number of employees in the agriculture and forestry sector also increased the number of employees in 2019 was 2.122 which is 40,6 % more than in 2014.

Thanks to natural resources and agricultural activities, strong food industry has been developed in Zenica-Doboj Canton. In the field of food production, Zenica-Doboj Canton is the absolute Bosnia and Herzegovina leader in the production and processing of chicken meat, and the production of bottled drinking water (carbonated and non-carbonated), bakery and confectionery industry, as well as meat and meat products and cured meat products, honey, etc. are significant. Over 70 companies that operate in the production of food products in Zenica-Doboj Canton generate annual revenues of over 450 million KM.
It is enough to mention AS Group, Brovis, Madi, Perutnina as the largest companies in the food industry Zenica-Doboj Canton, to see the strength of Zenica-Doboj Canton in the field of the food industry.
Assumptions for the development of this sector based on:
Wealth of agricultural land;
Water richness;
Favorable climatic conditions;
Possibilities of the significant increase in the volume of ecological-organic food production;
Possibilities of regionalization of production in livestock;
Availability of skilled and cheap labor and a long tradition in agriculture;
Existing processing capacities,
provide significant opportunities to potential investors.
The most important companies in the food sector of Zenica-Doboj Canton: